Close Boarded Cases, Bases or Solid Base
Close Boarded Timber Cases
Close Boarded cases are a heavy weight packaging design for maximum strength.
Our cases as always can be totally bespoke and will be designed to your exact requirements with a minimum timber depth of XXmm for a robust option for commercial use
A Closed Boarded timber case is ideal for:
Sea freight: Our cases can be internally lined with poly lining which prevents moisture ingress while at sea. If the unit is 'out of gauge' i.e. unable to fit in a container, this would be essential.
Heavy machinery: As Close Boarded cases are built for strength, they form a more solid structure than Ply cases so are therefore suitable to enclose units upwards of 500kg.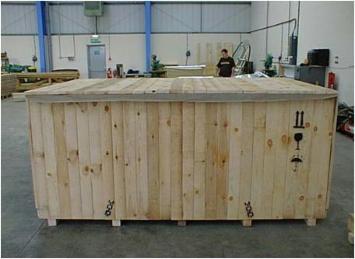 The bases in the image were designed to pack a machine weighing 26 tonnes.
Open Base (Heavy Duty Pallet)
Whilst our Open Base pallets look like an average pallet; they have the strength and capacity to take substantially heavier weights as a result of the heavy timbers used in the boards, runners and skids.
We can supply Open Base pallets for weights up to 3tonnes (dependent on safety and suitability of equipment to be packed).
Oriented Strand Board (OSB)
OSB is a widely used lighter wood panel manufactured from heat-cured adhesives, treated and pressed into 8×4 sheets.
This versatile engineered wood is a lighter choice of case, very effective for export packing and will only absorb moisture over long period i.e. prolonged exposure to the elements such as being externally stored.
The Ply case is either supplied with all sides secured and tacked lid to enable packing from the top or with a side and lid tacked if requested. Once packed, the nails can be driven home.
Timber Base (Machine Base) Ply Case
This packaging solution can be delivered as a 'flat pack' with a timber constructed base. This allows you to simply land your item on the base building the sides up around it.
Machine Based 'flat pack' has the added benefit of cost effective delivery to your site, as we are able to transport large numbers of units in a single delivery vehicle. This space saving option is also very attractive if storage space at your site is limited in the time period before preparation and packing.
Machine Base Ply Case Assembly Instructions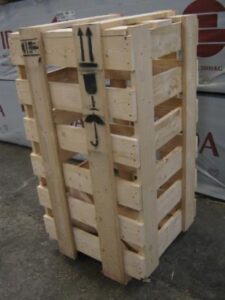 These crates are supplied with the lid unsecured for your convenience allowing simple packing from above.
This packaging solution can be delivered as a 'flat pack' with a timber constructed base. This allows you to simply land your item on the base building the sides up around it.
A barrier foil bag is used to protect the item from moisture ingress during shipment. Once the item is covered, it is heat-sealed and the air is extracted. This method is primarily used for items containing electronic equipment and circuitry.
High-density foam is used to protect delicate items during transit. As in the image above, the uses are varied from the 200-year-old grandfather clock in the image to lab equipment. Once the item has been secured within the case with foam-lined brace bars, a foam-lined lid is secured.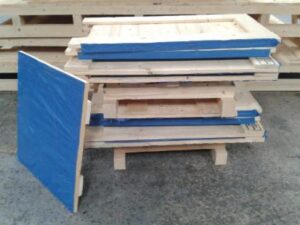 Closed Boarded timber cases are normally lined to prevent moisture seepage between timber boards with in transit. This is an internal lining that cannot be seen when the case is completed.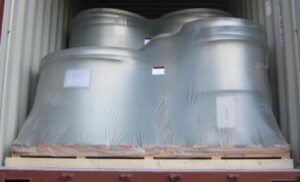 The primary use of shrink-wrapping is to serve as a secured dustsheet. Once the item has been secured to the base, it is heat shrunk. This technique also ensures that any smaller unsecured items will held safely in place.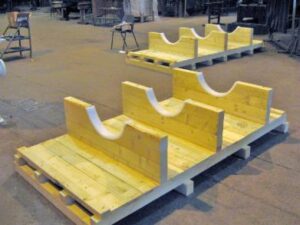 Our Scoop solutions are designed for the purpose of shipping cylindrical components lying horizontally. The bases and accompanying scoops shown in the image were manufactured to carry weights in excess of 500kg. Once the items were safely landed within the foam-lined scoops, they were fully encased in preparation for their voyage.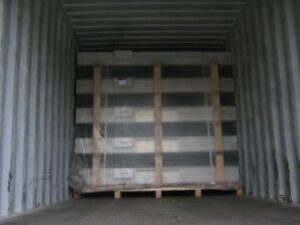 We load hundreds of containers every year and our vast experience ensures that we will always aim to load to maximise your potential with minimal wasted space.
We also specialise in loading and shipping vehicles. Our dedicated team have significant expertise in this area giving you peace of mind and trust that your vehicle arrives at it's destination, safely, securely and in the condition that we received it.