Lee has over 30 years' experience in the service sector including service management for a FTSE 100 muti national service provider. He has been with Export case company for 20 years and has successfully worked in every position gaining invaluable experience, enabling him to facilitate the position he holds today.
As Operations Director, Lee has responsibility for Quality service delivery, Health & safety including Risk assessment and RAMS, project management, purchasing & finance and company growth along with the many other demands required to facilitate the smooth running of a successful business.
Out of work, Lee enjoys going to classic cars shows, watching Cardiff & Wales play football and spending time with his family.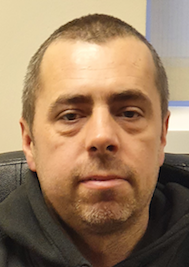 Darren has spent 20 years with Export case company. He learned his trade as a case maker and quickly graduated to export packer, and then foreman. With his vast experience Darren has worked his way up to the position he holds today.
As General Manager, Darren has responsibility for managing staff from production to packing service delivery, staff training, project management & problem solving, purchasing & stock control whilst assisting with many other aspects associated with the smooth running of the business.
Out of work, Darren enjoys spending time going away with his family and watching many sports from football to F1.
Export case company Ltd specialises in the provision of bespoke manufacture and packing solutions to a wide and varied customer base from both the export and home market sectors. Operating from our 10000 sq ft facility in Caerphilly, we pride ourselves on our commitment to service, delivery and professionalism in a timely and affordable package.
Value for money and providing peace of mind to all of our clients is paramount to the ethos of all of the Export case company personnel.
Export case company was established in 2000 as a specialist, quality driven case making and packing service provider to the exporting community in South Wales. Since this time we have grown into a market leading export service provider operating nationwide, taking care of the complete export package, from inception of bespoke design/manufacture of packing solutions, through to freight forwarding. 
 It's our commitment that we ensure that your products reach their destination in 'showroom' condition, enhancing your reputation whilst safe guarding future profits.
At Export case company, we offer expert proactive advice at all stages of the exporting procedure. This is an imperative part of our service as it allows the customer to make informed decisions based on expert advice, at the right time, to save you money, enhance your reputation, and gain future orders.
Customers who already use our services will testify to our quality results. If you have never used our services, please feel free to contact us for free expert advice so you too can experience the same professional quality service and peace of mind.